Short Interview about Gary's experience with composing music in VR for Trick The Ear project:
Matyáš Bernard Braun:
Anger/Bravery/Justice/Pride
From the Statues of 24 Virtues and Vices at
Kuks Hospital, Czech Republic
Author statement
Virtue and Vice are rather closely tied together, one can often transform into the other by excess or deficiency. When I first saw the statues at Kuks my first thought was that even the virtues were in such an extremely ornate style that they almost seemed to contain their corresponding vice within them. The high baroque style with ornate stonework strongly impressed on me the fluid dynamic between the ethical poles that Braun is positing to the viewer and from this I decided to think of the
way in which a virtue can transform into a corresponding vice. Thus the two parables, or movements, are essentially two scenarios of ethical transformation.
The first parable is an exploration of justice and pride and the way in which they interact. Slowly sliding towards arrogance, the music begins unified. All the strings of the quartet work in unison to project the surety that justice requires. However as the piece continues there is a gradual fragmentation. Each of the instruments move away from the initial material, gradually at first, but increasingly different until they finally differentiate into uncertainty. Each prideful displays of virtuosity by the instrumentalists demonstrate that within every virtue is the seed of its negative
image.
Parable II is structurally similar with one key difference. Instead of a gradual decline this movement explores the effect of stress upon an individual. Our brave protagonist is subjected to increasing difficulty, with the rhythmic and harmonic complexity increasing until a breaking point.
After that the anger felt only serves to diminish any expression, ending in a gradual silencing of the instruments as their anger chokes them and renders them mute. Though the statute seems to be roaring with rage, the fact that it is silent stone makes this dissonance even more powerful.

My thanks to the organizers and performers of this project. It was a privilege to be able to write a piece based on such stunning sculptural work and to have it hosted in such an interesting and vibrant virtual world.
Commissioned by 'Trick the Ear' for use in a virtual reality gallery
featuring the statues above.
With thanks to Vojtěch Leischner, Kristýna Žáková, and the Czech Ministy of Culture, Gary Rushton September 2020
Biography Gary Rushton
Gary has composed works in various genres and settings, ranging from concert works and choral pieces to film scores, and music for the stage. His work often explores themes of communication and states of mind, for example 'Tactile (four figures)' explores the direct contact between viewer and sculpture in the work of Barbara Hepworth.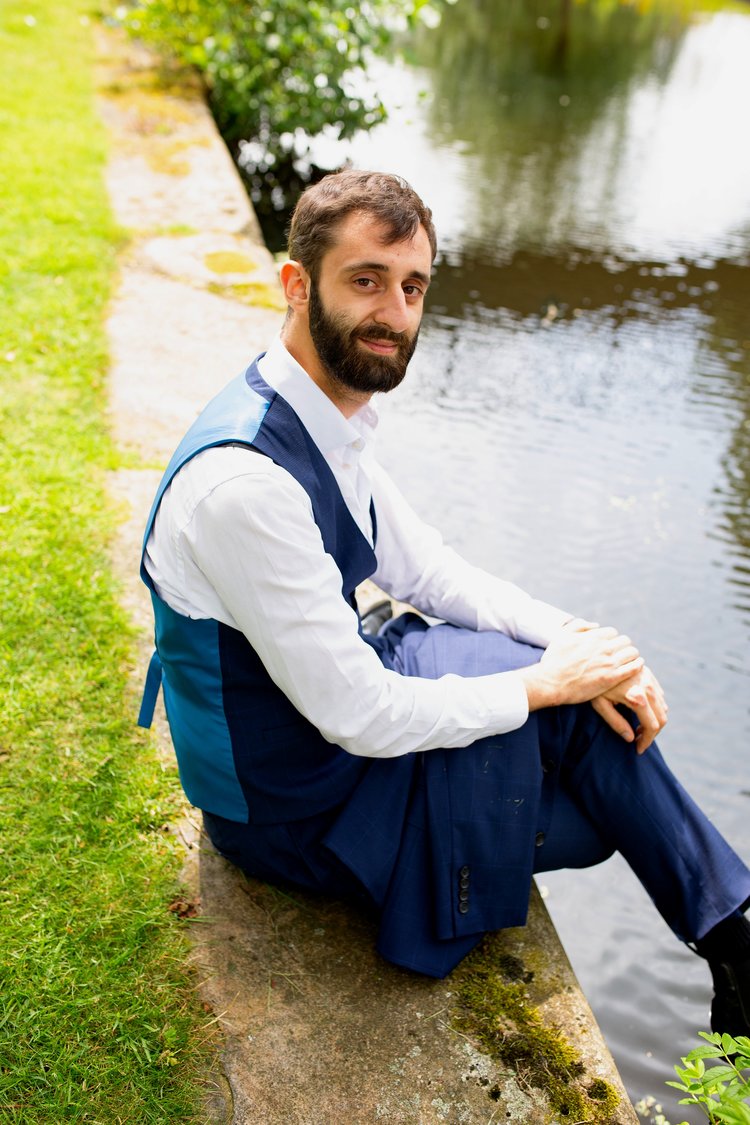 As a singer he is particularly invested in writing for both solo voice and choir, including pieces such as 'Lumen De Lumine' for double choir, and 'Sag, Solo Ice Reisen?' for Mezzo-Soprano and piano. Recent works include projects with the CHROMA ensemble, The Hepworth Gallery, Wakefield, and the Fisher Consort.
Gary currently studies with Edmund Finnis at the Royal Academy of Music. Gary is keen to expand his work into incorporating more electronic elements, as well as continuing to write for film and the stage.